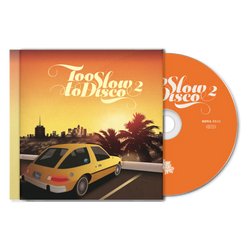 Too Slow To Disco Vol.2 CD
01. DARYL HALL & JOHN OATES - Alone too long
02. BEN SIDRAN - Hey hey baby
03. JIMMY GRAY HALL - Be that way
04. ERIC KAZ - Come with me
05. LEBLANC & CARR - Stronger love
06. DAVE RAYNOR - Leave me alone tonight
07. R & J STONE - Keep on holding me
08. LARSEN / FEITEN BAND - Who'll be the fool tonight
09. BYRNE AND BARNES - Never gonna stop lovin' you
10. PAUL DAVIS - Medicine woman
11. JOE VITALE - Step on you
12. NITEFLYTE - If you want it
13. BRUCE HIBBARD - Never turnin' back
14. STREETPLAYER - Shades of winter
15. MICHAEL OMARTIAN - Fat City
16. MICHAEL NESMITH - Capsule (hello people a hundred years from now)

It took us one year to finally come back with VOLUME 2 of TOO SLOW TO DISCO. This time we dug even deeper into the sundrenched, relaxed-funky, smooth and megalomaniac Westcoast-sound of the late 70s / early 80s: from Singer/Songwriter-Funk, Yacht-Pop, Blue Eyed Soul to AOR-Disco. Tracks somewhere between delusion of grandeur and a mountain of Soul. Again there are "Hall of Fame" honored Megabands like Hall & Oates or Michael Nesmith (from The Monkees) placed next to a completely lost troubled genius like Jimmy Gray Hall, who only released three promo 7 inches in his short life, that we just rediscovered.