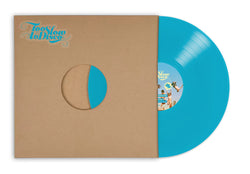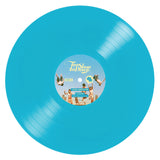 Too Slow To Disco Edits 06: LUXXURY 10"
10 inch turquoise vinyl. Limited to 400 units world wide.

We are back with our TSTD EDITS Vinyl series: No 06
After releases by DoctorSoul, Dave Mathmos, Vibes4YourSoul, 
DJ Supermarkt, Jack Tennis, Les Inferno we now give space to one of the early creators of the genre: LUXXURY from L.A.!
Side A: is a slice of funky, dubbed/spaced out midtempo Disco, custom made for the sophisticated dancefloor
Side B: is a slow-jam, and a dubbed, balearic romantic take on an AOR classic hit
LUXXURY makes dance music for adults. Raw, funky bass-lines plucked with grown-man finesse. A mastery of keyboard and synth native only to those who lived through the late '70s/early '80s. Dust in the glitter that vibrates in the space between string stabs, bongo slaps, and guitar jabs—even while the steady pulse and astral effects feel beamed in from a more cybernetic future Los Angeles. That's where the nu-disco wizard born Blake Robin dwells, of course. That is, when he isn't on the road opening for Giorgio Moroder or the Juan MacLean; leading his dapper band on late-night TV; remixing live at DJ sets in Mexico City, New York and Berlin; making viral TikTok "Inside the Song" videos, or seeding his Dublab radio show/Spotify playlist Good Morning, Disco! with gems that span four decades of groove-first music. In fact, you might've first felt his deft touch via the controversial LUXXURY Edits—where he uses the multi-tracks (stems) of classic hits to create dubby slow-disco versions—but his original music is no less arresting.
TRACKLIST

Side A:    LUXXURY – Hello My Love 5:39
Side B:    LUXXURY – Baby Please Don't Go (Oooh No)
5:38