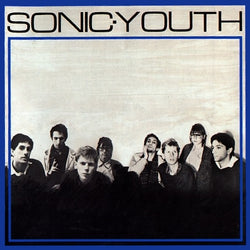 Track Listing:
The Original Record

Side A
1. Burning Spear
2. I Dreamed I Dream
3. She Is Not Alone

Side B
4. I Don't Want To Push It
5. The Good and the Bad

Early Live (September 18, 1981):
Side C
6. Hard Work
7. Where The Red Fern Grows
8. Burning spear
9. Cosmopolitan Girl
10. Loud and Soft

Side D
11. Destroyer
12. She Is Not Alone

Early Studio (October, 1981):
13. Where the Red Fern Grows

Recorded in late 1981 at Radio City Music Hall and originally released on Glenn Branca's Neutral label, this remastered and expanded vinyl reissue includes the self-titled debut record plus live material from '81 and a track from a previously unheard studio session. Includes liner notes by original Sonic Youth drummer Richard Edson, Glenn Branca and Byron Coley.