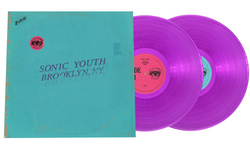 Live in Brooklyn 2011 Purple Jelly 2xLP
2 x LP in single wide spine jacket. Hand-poured random colored vinyl, each record is a unique mixture of color. This edition is exclusive to SY online.

PLEASE NOTE: The artwork is a replication/ homage of 70's bootleg albums. Jacket-wear/ aging/ grime is part of the artwork.
1. Brave Men Run (In My Family)
2. Death Valley '69 
3. Kotton Krown 

4. Kill Yr Idols
5. Eric's Trip
6. Sacred Trickster 
7. Calming The Snake 
8. Starfield Road
9. I Love Her All The Time 
10.  Ghost Bitch 
11. Tom Violence 
12. What We Know 
13. Drunken Butterfly 
14. Flower 
15. Sugar Kane
16. Psychic Hearts
17. Inhuman