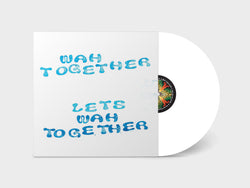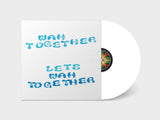 Wah Together
Let's Wah Together Limited White LP
Let's Wah Together by Wah Together on white vinyl (limited to 1000 copies worldwide.)
Records like Let's Wah Together aren't made via Wetransfer.
As the economics of music-making increasingly push young artists to work alone and "in the box," Wah Together rejects anti-social techbro musical austerity in favor of spontaneous face-to-face creation. 
On their debut LP, Let's Wah Together, the NYC-based Supergroup of bassist Phil Mossman (ex-LCD Soundsystem), drummer Vito Roccoforte (the Rapture), producer/guitarist Steve Schiltz (Longwave), and vocalist Jaiko Suzuki revel in the communal delight that happens when happy accidents are caught on tape.
Tracked principally live and in close quarters, Let's Wah Together captures the immediacy and spontaneity of a group of musicians listening to—and playing off— one another with genuine affection, curiosity, and joy.
From the skronk n' stomp of "I'm A Swimmer" to the Japanese Yé Yé beat inflected "Sayonara," the dense ear-busting wistfulness of "Teen Vito" and the storming acidic drive of "Out! Out! Out!," Let's Wah Together is a loud and commanding recommitment to the cooperative spirit and familial love that always marks New York's most vital eras.
Let's Wah Together is out March 4, 2022 on Dedstrange. 
1. Tempered Dub 
2. I'm A Swimmer 
3. Sayonara 
4. Closer We Get 
5. Teen Vito
6. Tobu 
7. Who We Are 
8. You Got The Blues 
9. Out! Out! Out!